Areas that can be treated using botox® are:
The frown area between the eyebrows

Areas around the eyes known as crow's feet

The forehead

Mid to lower face including Bunny Lines

Neck

Hyperhidrosis (excessive underarm sweating)

Please be aware that the forehead can only be treated when combined with the frown lines; ie. two areas of treatment.
Hyperhidrosis (excessive sweating under arm)
This treatment is used to treat excessive underarm sweating by injecting very small amounts of botox under the arm. This botox treatment will last up to 6 months resulting in a significant reduction in sweating. Prior to this botox treatment, clients are asked to shave the area. A numbing cream is used prior to injections. No top up treatment is required with this treatment.
Please take a look at a few before and after photos:
Frown Lines
| | | |
| --- | --- | --- |
| BEFORE | | AFTER |
| | | |
| --- | --- | --- |
| BEFORE | | AFTER |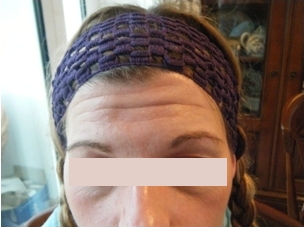 Natural State Before Botox Treatment
| | | |
| --- | --- | --- |
| Raising Eyebrows Prior to Botox Treatment | | Raising Eyebrows Following Botox Treatment |
| | | |
| --- | --- | --- |
| Frowning Prior to Botox Treatment | | Frowning Following Botox Treatment |
What to expect during a treatment
We understand that taking that step to your first Botox treatment may be daunting and wish to minimise this as much as possible. We know that some people need time to make this decision. As your medical practitioner, we need to gather a full medical and cosmetic history prior to your treatment. This can be done on the same day. Please allow 45 minutes for your fist Botox treatment in order to do this.

On the day of treatment we will take photographs to place in your personal file and then numb the area to be treated using an anaesthetic cream. The area is then cleansed thoroughly prior to treatment. We use fine disposable needles to inject Botox into the muscles being treated. Our aim is to make the procedure as comfortable as possible for you.

Aftercare instructions will be given at this time. A free follow up meeting is advised 2-3 weeks later to take further photos and provide a free botox® top up if necessary.